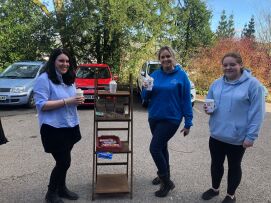 During the coronavirus pandemic, the team at Excel Fostering, a local independent fostering agency, decided they wanted to spread joy and happiness by giving back to the incredible key workers who were continuing to work tirelessly in difficult circumstances by launching
the Coffee for Key Workers campaign.
Having already thanked key workers at the Lancaster Market and teachers at The Queen Katherine School in Kendal with free coffees,
their final stop was at Kendal Nursery School at Brantfield, one of the only Local Authority run nurseries in the area which has been open since 1946. Nursery school workers have played a crucial role during the pandemic, allowing young children to still attend and develop whilst supporting their parents to continue to work.
Excel Fostering's Supervising Social Worker, Chris Holt said: "We wanted to thank all the staff at Kendal Nursery School for all their hard work during the pandemic with some coffees and hot chocolates. This is just a small token of our appreciation. Thank you all!"
Headteacher, Alyssa Dobbs added "Staff have worked so hard this last year to keep things fun and as normal as possible for the children of Kendal Nursery School, today's treat of either a hot chocolate or coffee was just the boost we all needed to keep us smiling!!! Thank you so much".
Emilie Bradbury who is a trainee teacher at Kendal Nursery School was delighted with the generosity, she said "What a lovely treat we really appreciated it, just what I needed to perk my day up".
Finally, class teacher Ellie Sanchez said "It was such a treat to have a real coffee, especially at work!!"
Overall, the Coffee for Key Workers campaign has been hugely successful and has helped put a smile on the faces of valued key workers who have been incredible throughout the pandemic. Excel Fostering are community driven and are always looking at new initiatives to not only improve the lives of children and young people, but their whole community too.